2017/6/9 15:37:01
【THE AUSTRALIAN】Gina's Chinese live export deal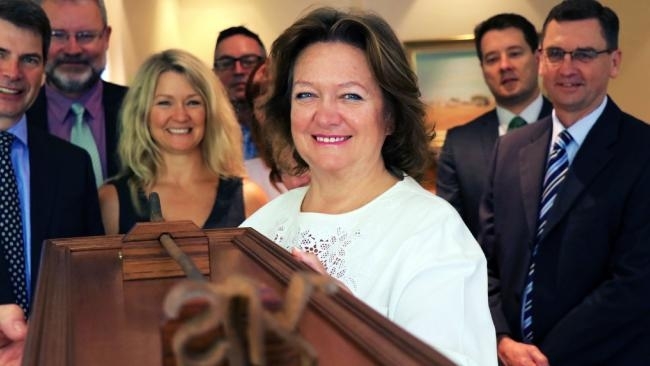 Australian billionaire Gina Rinehart has inked a deal with China to export live cattle to the economic powerhouse in a deal that could be valued at more than $500 million if maximum export capacity is reached.
Hancock Prospecting has revealed that it has signed a strategic co-operation agreement with Zhejiang Aozhou Cattle Industry, a company formed to develop a cattle facility on Jintang Island, China. The new Chinese entity has been formed by Sino-Australia Modern Industry Park, New Hope Group, Zhejiang Seaport Group and Harvest Fund.

"Australia needs to export currently two-thirds of its cattle, so overseas markets must continue to be developed if we are to grow our cattle industry," Mrs Rinehart, executive chairman of Hancock, said. "Growing our cattle industry helps the many related industries, not just the stations themselves but also the trough and tank suppliers, the hydraulic crush manufacturers, the contractors and truckers, accountants and other consultants, and more."

The agreement will see Hancock and Aozhou establish a joint venture in Australia to purchase, feed and export suitable cattle to those Chinese facilities. Hancock will control 66.7 per cent of the Australian joint venture, with the new Chinese entity owning the rest.

Aozhou, which Hancock can also invest in under the agreement, will also develop and operate the facility and sell and distribute the beef products to consumers in the Yangtze Delta region. The Jintang Island facility will have a capacity of 150,000 head per annum, with the potential to expand that capacity to up to 300,000 head per annum.

Yonghao Liu, chairman of New Hope Group, said there had been increasing demand for premium protein in China.

"Under the China-Australia Free Trade Agreement and the approval of live cattle exports to China, relying on the geographical, industrial and market advantage of the Sino Australia modern industrial park (Zhoushan), leading agricultural enterprises from the two countries are forming a strategic co-operation initiative," he said.

Hancock said it would redirect the sale of suitable cattle from its northern cattle stations from other live export channels into this Australian joint venture company, with shortfalls to be purchased from other exporters.

Mrs Rinehart, Australia's third-richest person with an estimated wealth of $10.41 billion, purchased the country's largest pastoral portfolio, S. Kidman & Co, with Chinese joint venture partner Shanghai CRED late last year. Her company, Hancock Prospecting, is the majority owner with a 67 per cent stake.

The $386.5m Kidman acquisition added 10 cattle stations, making up about 1.3 per cent of Australia's total land area, to Rinehart's agricultural portfolio. Following that acquisition Hancock became one of the top three beef producers in the country with a herd of about 300,000 cattle and it sells about 150,000 head a year.

Hancock said that cattle from northern Australia were typically better situated and suited for live export markets and were therefore typically already live-exported. The company said that under the China proposal, rather than sell its cattle to exporters, which then onsell to importers, Hancock was proposing to retain a direct ownership interest in those cattle through to the end customer.

The ports likely to be used to export the cattle are Broome, Derby and Darwin.

Mrs Rinehart's company said that the agreement did not consider its high-quality cattle, which typically come out of the S. Kidman and Co's southern properties, were typically sold and processed in Australia.

"Hancock intends that its share of those southern cattle from S. Kidman & Co.'s channel country properties will continue to be sold and processed in Australia," the company said "Hancock is also increasing the volumes of its wagyu herd that are being processed locally at John Dee in Queensland for sale under our 2GR wagyu brand."

Completion of the agreement is conditional upon final regulatory approvals, including Australia's FIRB.