2016/11/14 14:19:55
【ABC Rural】The Moxeys and Perichs form a dairy consortium backed by Chinese investment
Moxey Farms, in central­west New South Wales, has entered into an agreement with Leppington Pastoral Company, which forms part of the Australian Fresh Milk Holdings consortium.

The deal develops a four way partnership between the Moxey and Perich families, Chinese private company New Hope Dairy Holdings and ASX listed food processing company Freedom Foods.

The strategic partnership will give each company access to assets and operations across the dairy supply chain.

The primary aim is to invest in Australian dairy farms to increase milk supply so that value added dairy products can eventually be exported to China.

Freedom Foods and its controlling company, the Perich Group (Leppington Pastoral Company) are leading the deal.

New Hope Dairy Holdings will be a strategic partner in the consortium providing distribution links through China and money for investment in dairy farms across NSW and Victoria.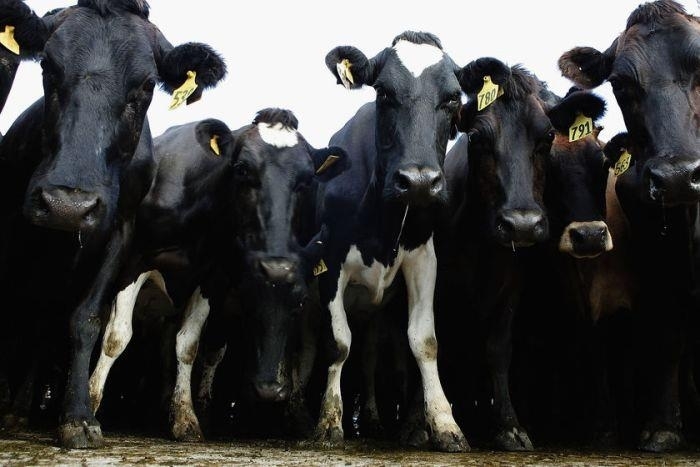 Milk capacity to total 75 million litres per year

The Moxey family will take a strategic stake in the consortium but will continue to operate Moxey Farms and retain key customers and staff during the takeover.

Moxey Farms runs 3,700 milking cows on 2,700 hectares producing 50 million litres of milk annually.

The collective milk production from both the Moxey and Perich enterprises will total 75 million litres each year.

Moxey Farms general manager Quentin Moxey said the partnership was looking to acquire more farms.

"Our role in the partnership is to stay on and operate the existing business and then beyond that we are certainly very keen to move forward and investigate opportunities in, what we call greenfield sites, looking to build dairies in other areas that make sense to the group."

"I can certainly see a dairy of a similar size to Gooloogong in the future, so that's probably your 3,500 to 5,000 head of cows."

Mr Moxey said although it would like to develop export opportunities into China, at this stage it would continue selling domestically.

"The Moxey family has some very good relationships in Sydney and I don't think there is any intention to do anything differently at the moment," he said.

In early 2014 Moxey Farms initiated a review of its operations with the aim of finding a strategic partner to assist with the next stage of growth.

"We were very fortunate to receive a number of great propositions," Mr Moxey said.

"We are very excited to be able to form this partnership, it really ticks all the boxes and it offers great opportunity for the Moxey group moving forward."

"It's the connectivity to market, it's having some great partners and having some exposure right across the chain that was what we were always after."

Director of the Perich Group's Leppington Pastoral Company Michael Perich said for his family this deal shows the significance of high class dairy farming.

"It really is about building on our expertise in dairy farming and producing a clean fresh product for processors then to take the next step," he said.


Background to consortium forming

In November last year Freedom Foods and the Perich Group signed a memorandum of understanding with China's New Hope Group to investigate the establishment of new large scale intensive dairy farms in Australia in order to supply Freedom Foods UHT operations.

Last year New Hope established a $500 million investment fund to develop and acquire dairy farms and processing facilities globally.

It will also play a part in developing value added markets and customers in China.

Leppington Pastoral Company was founded by the Perich family in 1951 with 25 milking cows.

The operation now runs a 2,000 head dairy cow free stall facility in Bringelly, on the outskirts of Sydney.

It is the largest shareholder of the Freedom Food Group and the family is noted to be one of the top 10 family businesses in Australia.

Freedom Foods Group Limited is one of Australia's leading manufacturers of UHT food and beverages for branded and private label customers.

It is the largest shareholder in the a2 milk company with 18 percent of shares.

The group's dairy activities are conducted through the Pactum Dairy Group which has a joint venture for a new UHT dairy beverage facility in Shepparton.

Milk products manufactured at that plant are value added and sold to customers in China and South­East Asia.

New Hope Dairy is part of the New Hope Group based in Chengdu. It is one of the largest supplies of meat, egg and dairy product in China.